PSW.ca What's New Pseudo Sound Works Pseudo Soft Works Meet Us
On September 25th, 1999, PSW officially released the album My 64, a collection of songs either about, or created on, the Commodore 64. The album debuted at the Chicago Expo in Lansing, Illinois, and was well received.

My 64 contains four "real" songs - recorded with guitar, bass, drums and vocals. The remaining 7 songs are SID songs - made on the C64 itself.

Loadstar is selling the CD, or you can deal directly with us. The album is selling for $10 US + $2 shipping in North America or $4 for the rest of the world. You can pay by Paypal or *international* money order - just contact me for more details.

Please email us if you want more information.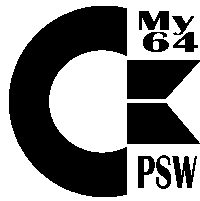 Track Listing:
01. History (I Adore)
02. Remember When
03. Summer of '64
04. Perspective (Not More)
05. Hey Sister
06. Spin
07. Test Pattern
08. Coptun
09. Funky
0A. Rejected
0B. Video Killed the Radio Star